Wholehearted. Sustainable. Uniquely You!
Years of everyday practice and color obsession have led us to become expert designers specializing in the curation and design of memorable and modern weddings and events.
Inspired by our unique couples, our designs are born from color-led influence using locally and seasonally sourced high-grade botanicals. With eco-friendly studio practices, we bring wedding dreams to fruition.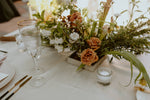 Luxury Meets Sustainability
Elevating and personalizing each detail of your wedding day with eco-friendly studio practices and focus on maximizing the floral impact at your venue.
Thoughtfully Inspired
Our Unique couples trust us to speak for them using our medium of color , shape and flowers.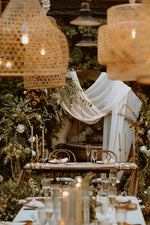 Our Creative Process Manifests Magic!
We begin with hopping on a discovery call to gather all the details about you and your wedding vision.
Using our findings as our muse we get to work on creating a one of a kind proposal.
Once you have had time to review we hop on a brief call to further customize before you make any final decisions!