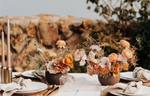 Sustainable Floristry Mechanics For Wedding & Event Design
The goal of sustainable floristry is to be more eco-friendly by reducing the use of plastic waste.  If you are looking to reduce your ecological footprint and make your floral business more sustainable try repurposing or re-use your prepped vessels, dry your leftover stems, avoiding toxic chemicals to treat flowers or pesticides when growing them and your plastics by buying locally grown flowers. It is a growing trend to protect our planet but I have found that sustainable  floristry mechanics have inspired out of the box designs and give me more freedom in the shapes I create while becoming more thoughtful in my floral recipes. 
Today's eco-conscious floral designers have embraced floral alternatives and many new business's such as New Age Floral and Floral Genius produce products that are compostable like the Oshun Pouch It is 100% Sustainable, bio-degradable and compostable mechanic. and Agra Wool  Made from basalt wool with plant based, starch binders.  It has never been easier to incorporate sustainable practices into your floral business.
If you want to know how florists are making changes to improve on the fundamentals to be more eco-friendly and how you can make positive changes for the future, here 5 steps to take towards a sustainable floristry business. 
Reduce or cut out the use of Floral Foam
Floral foam is a large contributor to waste in the floral design business. The foam is made with two toxic chemicals, phenol and formaldehyde and it is a single-use synthetic plastic.
     2. Try using soaked sheet moss in a chicken wire cage.
A more sustainable alternative to floral foam is chicken wire and moss. Have you given these a try yet? Chicken wire can be easily cut or molded into a shape that will hold the flower stems.  Moss is hydrated in water and layered into the chicken wire by rolling it and adding moss as you go. Check out "Sustainable Floral Mechanics Part One!" For a quick tutorial on how to use the chicken wire with moss mechanics.
      3. Cutting back on product sources that guzzle gas!
From your bridal bouquet to your table arrangements, wedding flowers and will have a huge impact on your big day. Selecting flowers that are in season is not only cost effective and convenient for bulk ordering but reduces the diesel and jet fuel exhausted when imported. 
Imported flowers are boxed with board, tapes and foams before using massive amounts of insecticides and spent many days in trucks and planes. Imported flowers have a much larger carbon footprint and fuel consumption are used to transport the flowers.
       4. Buy From Local Farms.
Buying locally grown flowers means investing in and supporting our local farmers while promoting small heirloom farms to continue to offer unique flowers unavailable to the public. You will get ​​organically grown fresh flowers that last longer and countless varieties you cannot find on the import market. 
By educating your clients on the best and abundant flowers for each season to suit their wedding style or which flowers would make beautiful substitutes to any out of season requests you can be sure to reduce waste, support farmers and have the best product.
        5. Reduce Water Waste.
Maintain a conscious use of water. Use a sharpie to mark fill lines within each of your buckets to be sure you don't over fill unnecessarily. When disposing of old water find an adequate flower bed or plant to put the water to use. When washing vessels and buckets fill them with just enough water to clean them, scrub and rinse afterwards rather than running the faucet. 
Running a sustainable floristry business requires hard work, dedication and commitment. Practice and mostly learning. 
Creating from a humble and joyful place with experience and imagination has led us to become expert designers specializing in the curation and design of memorable and modern weddings and events. Every step we make in our floral business is essential and makes a difference. We go above and beyond to satisfy the needs of our customers while maintaining a conscious world view and artful eye. We continue to educate other in sustainable floristry while forging our continues fire for knowledge. 
Check out our website or please contact Crimson Floral Co. for more details, or for any special requests. 
Resources:
https://pearsonsschool.com.au/blogs/news/sustainability-and-the-emergency-of-green-floristry
https://education.teamflower.org/learn/business/ssl/9-ways-to-make-your-floral-business-more-sustainable
https://www.sasktoday.ca/north/opinion/floral-design-for-life-4103027